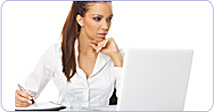 A few tips on essay writing
An essay is an organized collection of your thoughts and ideas. A good essay is one, which is nicely written and professionally presented. Writing a superlative essay will be child's play, if you adhere to the following simple guidelines.
Before you begin writing the essay, a short brainstorming session can be quite helpful. In this session you should think about the meaning of keywords and phrases in the essay title. Try to find out the issues and questions related to the essay topic. This will help you determine the scope and breadth of your essay.
Start collecting information for your essay. Run to the nearest library or browse the Internet. It would be better to hold discussions with a person who is an expert on your essay topic.
An essay contains a number of essential sections, of them the introduction is the first and the conclusion is the last. Enumerate all the sections, which you consider important. This will give you a rough idea of what your essay might look like.
Once you have planned your essay, its time to write it. Develop a draft first and continue to modify it until your are satisfied with the essay's structure.
Read the final draft very carefully. Check spelling and grammar. Don't forget to review presentations, maps, graphs, charts, diagrams and bibliography. Pay adequate attention on margins, page numbers and essay title page.
Essay writing is an art that requires a lot of practice, perseverance and patience.