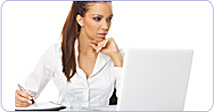 Argumentative Essay
The argumentative essay is written with one primary aim, that is, to convince the audience that your assertion about some phenomenon is correct or more truthful than others. Persuading a person to believe something is not an easy task. Therefore, the art of writing an argumentative essay is a skill that cannot be acquired easily. Here are a few tips that will help you to write a convincing argumentative essay.
Pick a well-defined, controversial issue. Readers should understand what the issue is and what is at stake. The issue must be arguable. After stating your thesis, you will need to discuss the issue in depth so that your reader will understand the problem fully.
In your thesis sentence, state what your position is. The thesis can be modified elsewhere in the essay, if you need to qualify your position, but avoid hedging in your thesis.
An argumentative essay does not merely assert an opinion; it presents an argument, and that argument must be backed up by data that persuades readers that the opinion is valid. This data consists of facts, statistics, testimony of others through personal interviews or through articles and books, and examples. The writer of an argumentative essay should seek to use educated sources that are nonbiased and use them fairly.
Assume that your reader will disagree with you or be skeptical. It is important, therefore, to keep your tone reasonable, professional and trustworthy. By anticipating objections and making concessions, you inspire confidence and show your good will.