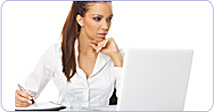 Getting Started on Essays
Getting started on essays is often the most difficult part of the essay writing process. All teachers will tell you to get started on your essay as soon as it is assigned. Many students don't even think about the essay until a few days before it is due. As a nation of procrastinators, you can be sure that there are other students who do the same thing.
The students who are truly successful when it comes to getting started on essays are the ones who begin early. They are the ones who get all the good books out of the library. Have you ever gone to the library a few days before your paper is due only to find that all the books are signed out? This can be a big problem, as it often takes considerable time to track down sources.
The best solution is to start early. Getting books out will be the first step in the right direction. Books will help you focus your topic and allow you to gain a considerable understanding. It is a good idea to take out a bunch of books early in the planning phase of your essay because you will discover that you either have excellent sources or there are not enough sources for that topic.
Once you have chosen your topic it is important to choose your thesis. A good thesis will allow you to further focus your research. It is like having a destination, and all you have to do is figure out how to get there.
By getting started on an essay early, you save yourself lots of stress and grief later on. You can relax while your classmates are pulling out their hair trying to find books. Your essay will read like something polished and well-thought-out, rather than something sloppy and thrown together.
EssayExperts.com can help every step of the way. We have many services that can assist the budding writer. We also have many timesaving tools for any student who has to get through a paper. And as well as the opportunity to order a custom essay or custom term paper from one of our writing experts.