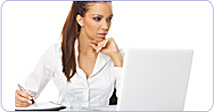 How To Write a Critical Essay
A critical essay is basically an analysis of a literary work. This evaluation may be positive, negative or may contain the elements of both. The critical essay places emphasis on the literary work being studied rather than the feelings and opinions of the person writing about the literary work. In this type of essay, all the analysis should be backed up with evidence.
The challenge in writing a critical essay is to include one's opinion without stating it in the first person, as in, "I think this is awful!" It is necessary that the writer avoid writing in the first person.
The introduction of the critical essay should include background information that shows the importance of the work being evaluated, main theme of the work, the support used to "prove" the thesis and the important questions that need to be answered.
In the body, the writer must include the description of the themes, values, historical significance, type of impact generated by the work, difficulties related to the creation of the work, any omissions in the work and conflicting opinions as well as important counterarguments relevant to the work.
The conclusion of the critical essay should include details relating to the effectiveness of the author with the piece of work, outcomes and final opinion about the work.
The critical essay should be free from mechanical and stylistic errors.
The essence of a critical essay lies in its objectivity and the coherency with which the literary work is evaluated.