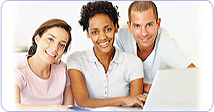 Professional Thesis & Dissertation Writing
Essay Experts is a bright star in a field of dim bulbs. For custom academic writing, we're simply the best. Our satisfaction rate is sky-high – and nearly every single one of our customers agrees that we have what it takes to give you the help you need with your graduate publication. It's all about two things: the best writing in the business, and incredible customer service.
We take special pride in our Thesis & Dissertation Division. Our graduate document clients get the very best of what we produce. We support our unparalleled research and writing with incredible customer service.
The Thesis and Dissertation Writing Process
You deserve to know exactly what to expect from us when you come to us for help. We find that the more you know about us, the better you can make a decision to move forward – so here's what you need to know!
If you place your order online, you'll get a call back from a senior Academic Advisor. If you call in with your order, we'll hand your call over to a senior Academic Advisor if one is available – if not, we'll have one call you. Only our senior staff have clearance to handle thesis and dissertation orders because only they have the level of knowledge and experience required to give you exactly what you need. You'll discuss your goals and vision for your graduate project – so get ready to answer some tough questions and make some choices about the direction you want to take your thesis or dissertation – and if you need guidance, that's what we're here for!
From what we learn about you and your project, we select the best writer for you from our thesis and dissertation roster. Only our top writers work for our graduate clients – so you know you'll be getting quality. Your writer will begin with some preliminary research on your topic.
Your writer will collect his/her initial research and pass it along to your senior Academic Advisor. You'll get another phone call, and at this time, you can discuss the research results and decide where to go from here. If you want to change the overall focus of your project, or any detail discussed during the first conversation, now is your opportunity – you'll finalize the direction you want us to take your project.


The writing process begins. Graduate projects are long, so we write them chapter by chapter, which gives you a chance to read and ask for revisions before we move on.
You'll review each chapter as it's completed – you can even present them to your supervisor. At this point, you can request that we revise the chapters. One by one, as each chapter is written and revised, we'll get a much clearer picture of what you are looking for, and our writing will reflect your and your supervisor's thoughts.


When we've written and revised all of your chapters, we'll send you your final thesis or dissertation. And then it done!
What Makes Us the Best?
Academic writing is a funny industry – there are a lot of service providers you have to watch out for. But luckily, there are a few really good ones, and we're the best of them. Here's why:
When you call us (which you can do 24/7) you talk to a real person right away, who is actually sitting in our office – not overseas in a call center!


Our writers are chosen for ability and expertise. They're all native English speakers and have Masters degrees or PhDs in one or more fields. We're not called the Experts for nothing!


We've written tens of thousands of academic documents with a very high satisfaction rate – people who use us love us!
Give us a call right now and we can give you more information on how we can help you with your thesis or dissertation. When you've heard what we can do for you – we can get the process started right away over the phone!
Call 1.866.ESSAYS.5
Or, if you're ready to get started right away …


FREE Thesis or Dissertation Evaluation