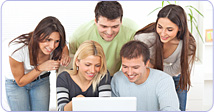 Custom Essay Writing Services
At Essay Experts we have diversified our service list to reflect the requests we get from students. Below is a list of different services offered to our clientele.
Custom Writing - Essays, Term Papers, Theses and Dissertations
Our custom writing can help the first year student or a Doctoral student writing their dissertation. With this service we write a model paper that includes all of your requirements. This paper serves as a model for you to write your own. Our writers are specifically chosen and trained to be able to handle such a task and deliver quality text with each and every order. This service is simple, just answer the fields in our order form and be as specific as possible. If you live in the Los Angeles area, you can drop off your text book and related readings to help us write your model term paper. Remember to give yourself enough time to write your own paper so request an appropriate deadline from us.
Order A Custom Term Paper From Us Now!!
Essay Editing Service
This service is one of our more popular services. Students write their own papers and then request us to edit them. We examine your content and improve it to make it more succinct and to the point. We also make sure that any loose ends are tightened to make sure the message in your essay is what it should be.
Order Our Essay Editing Service Now!!
Application Writing Service
Our application writing service helps students that are applying to college and universities as well as graduate and post-graduate degree programs. With this service we write a model application that includes all of your requirements but caters specifically to the schools in question. Many of them have specific questions they want answered in essay form. For this service we may require to see your resume as well as a personal biography of yourself to write an application essay that suits your needs.
Order Our Application Writing Service!!
Application Editing Service
This service will proofread your application essays specifically. We will go over the essays you wrote and compare them to the requirements given by your college of choice. We will examine your content to see if your application delivers the ingredients necessary in a winning application.
Order Our Application Editing Service!!
Read About Our Website Content Writing Services