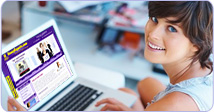 How Our Site Works
Essay Experts is a full service writing operation that writes all types of academic assignments. If you wish to purchase one of our products or services you can do so online and one of our customer service representatives will call you back to go over your order. If you live in the Los Angeles area then come into our office. Once you order our services, you will be e-mailed your username and password. Simply click the link and log in. You can communicate with our writers or set up a conference call and talk to our writer.
How to order our services
You can order our services online, every one of our order forms are straightforward and easy to fill out. Simply fill the order form as best you can and submit your information. We do require some personal information on yourself as you would with any company online. If you have an article that you would like to include with your order, scan it and e-mail it to us or fax it to us. We'll take care of the rest. Presently we accept Visa, Master Card, American Express, and Discover. You can also pay us through Western Union, simply ask us for the information.
Security Concerns
We never give away your information to any third party. We own every one of our servers and have an in-house IT department to make sure our sites are operating properly. You can rest easy that your credit card information is treated with the utmost security and carefulness. Every one of our employees is bondable and trustworthy. Before being able to work with Essay Experts, employees are screened carefully to make sure that they are able to work within our philosophy.
Customer care & post writing service
If you have any questions regarding our service you can reach us at 1-866-ESSAYS-5 or if you are not able to contact us then dial our international number 1-310-314-4060. We'll help you no matter what your topic is. If you would like a revision to your term paper, then you are free to request one directly from the section you downloaded your completed paper from. To order a second paper, simply log in and go to our order page so we can confirm it quickly with you.