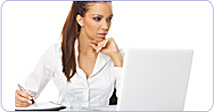 Custom Term Paper Writing Service
Our custom writing service has made us world famous. Not only because we write great papers but because we have consistently done it with our increased following. We have a roster of many dozens of writers ready and able to write a model paper for you right away. Here are some benefits of ordering through our service:
We have a physical location where you can come in and speak to a live representative
Order any topic or subject because we have a diversity of writers who are qualified
You receive approximately 225 words per page
100% original term paper and guaranteed
Your paper is written professionally and on topic
The ability to have us revise your term paper if we miss a requirement
A free bibliography page with every paper
Ability to communicate and talk to your writer for no extra charge
Access to the latest research available on your topic matter
Type of assignments we write: essays, book reports, term papers, thesis and dissertations. We write it all at Essay Experts, just order it!
Get started with your order and have us write a paper for you right now - Order Here!
If you want to read more about the steps involved in ordering a paper then read on:
Here are the three steps involved when ordering a custom term paper:
Step 1: Know what you're ordering ... it's all about the requirements.
You should know what you want in your paper. By this we mean you should know your requirements. If you don't know what you're paper is about then you won't be able to explain it to us. Understand the boundaries of your topic and know the requirements of your topic so you can explain it to us properly. This assures you that you will receive a completed model that fits your requirements. If you can come into our office then bring in your text book and related readings as every bit helps.
Step 2: Don't be afraid to challenge us... make us investigate further.
When ordering a paper you can push the limits of your assigned topic by having us tackle related subjects to give you a broader range of information. Remember that this is your model so you want us to do as much research as possible to give you a better overall paper.
Step 3: Make sure you are satisfied with your paper.
When receiving our paper read over it. Does it follow your requirements? If not, then have us revise it. Making sure you are happy with our product assures us that you will be coming back as most of our clients do. Remember, we write your model paper in English terms that are used in everyday school life, the purpose of our paper is to give you a model and give you a better understanding of your topic.
Order Your Custom Term Paper Right NOW!