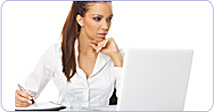 Essay writing tips
Essays: There's no escaping them. Essays have become a huge part of the education system, especially in the arts. These days it's not uncommon to find courses where a single essay makes up 30% of the mark or more! Some courses have essays that are worth 50%, or even 100% of the mark! It is becoming more and more important to have good essay writing skills, even if you do not plan on being a writer. Essays are even coming up in the curriculum for science courses. Even math courses have the occasional essay. By following these essay writing tips you will be able to hand in a quality paper.
The most important thing to consider when writing an essay is the topic. Everyone will tell you to write about what interests you. I know this can be hard in some courses! If the topic has been assigned there is not much freedom. However, you can still find some aspect of that topic that interests you. If the topic has not been assigned, consider yourself lucky! You will either have to choose from a list of provided topics or pick one yourself.
Picking a topic can be tough. It suggested to write about what you know because not only will the researching and writing process be less painful, the essay itself will reflect your enthusiasm for the topic. You passions will come across on the paper. This is a good thing, because you want the reader, who is going to give you a mark, to enjoy reading it.
Of course, it is also recommended to start early. Begin gathering your research and quotes, start making a plan, and even start the actual writing days or weeks before it is due. Of course, hardly anyone actually does that! These days, students are so busy that they often try to complete their essays, start to finish, in a day or two! Believe me, the teacher will be able to tell how much work went into the essay.
EssayExperts.com is there to help you with all your essay writing needs. We exist because students need help and we are more than happy to provide that help. We have an easy to use system that you can use to order an essay from our essay library. You can use one of these essays as a sample essay to help your own writing. You can also order a custom essay from one of our writing specialists. Our writers are tried and tested writers who have a Masters Degree or PhD.