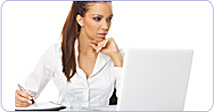 How to Choose a Research Paper Topic?
Choosing a topic is at times the biggest hurdle in doing research and writing a research paper. Therefore, research paper topics should be selected with utmost care. The following tips will definitely prove helpful in selecting a good research paper topic.
Start by choosing a research paper topic that you like or are curious about. You're going to be working on it for quite a while, so try and find one that is interesting and that you can reasonably cover in the time and space available.
Avoid a research paper topic that is too technical, learned or specialized.
Reduce your research paper topic list by taking a few minutes to read about each of your research paper topics in a specialized encyclopedia, dictionary or handbook. All this will help you to refine and refocus your research paper topic before you finalize it.
Once you have chosen your research paper topic, write it out as a short sentence or question, and look at the different components that make up your statement.
Start compiling a list of the keywords that you will use to search for relevant materials for writing on your research paper topic.
It is always better to take a few steps in the beginning to make sure that your topic will be relatively easy to research over the days and weeks to come. You don't have to invest too much time and emotion in a project that will only lead to frustration in the end.