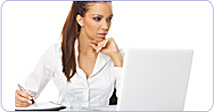 How to Write a Good Research Paper?
Writing a heavy-duty research paper is usually a daunting task, and at one point of your scholastic life or another, you will have to write a research paper. Irrespective of the length of the research paper, the amount of time you have on hand and the topic of the research paper, you too can write a first-rate research paper. For this you just have to follow the standard guidelines.
You may either be allotted 10-weeks or just 4-weeks to complete your research paper. Therefore, it is essential to develop a schedule for writing your research paper. Creating a calendar will provide you enough time to finish the paper before the due date.
Typically, the instructors provide the topic for the research paper, but if you have the choice, select a topic that interests you. Keep your topic broad enough to find enough resources to cover the topic of your paper, but narrow enough that you can develop and successfully support your thesis.
The research paper must contain a thesis statement that suggests the paper's main topic and implies the order in which the ideas appear.
Don't rely on one resource. Try to gather as much information as you can for your research paper.
Once you have gathered the resources, develop an outline of what you plan to cover in the research paper.
Write the first draft and check it over and over again to find out whether everything is in order or not.
Finally, check your research paper for grammar and typographical errors.