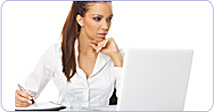 How to Write a Research Paper?
"How to write a research paper?" is one impinging question that almost all students are bound to encounter in some part of their academic life or another. Although the Internet is literally swamped with sites offering advice and tips for writing a research paper, none have authentic resources that can teach how to write a research paper in a lucid manner.
For the benefit of all students, we have tried to compile a dissertation that will teach you exactly how to write a research paper.
The first step is to setup a timetable to keep you on schedule.
Next, indulge in a brainstorming session to select a topic. Select one topic you want to read about, don't already have a strong opinion about, and have some background to understand.
Read several general pieces about your topic to help you decide which aspect of the subject will be your focus. Once you narrow your topic, run a preliminary database search to be sure there is enough accessible material to support your research in that area.
Write a thesis statement to clearly communicate your controlling idea.
Begin research and note-taking because without purposeful, critical reading and meaningful, accurate note-taking, you cannot produce a good research paperno matter how excellent a writer you are. Always note complete citation information.
Develop an outline for your research paper; then start writing. Edit it several times until you are satisfied with the contents. Finally, check the research paper for grammatical and typological errors.