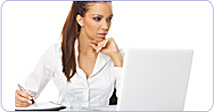 Tips for Writing a Research Paper
Writing a research paper will not be a difficult task if you possess the requisite skills, do lots of research and follow the rules of writing a research paper ardently. Here are a few tips that will help you enormously in writing a research paper.
For writing a research paper you need to give yourself enough time. For an average length research paper you should give yourself a month to adequately collect the research materials. Write a quick schedule to help you keep track of time.
You need loads of authentic information for writing a research paper. Before you begin the exploration of information resources you need to have a solid thesis statement. Keep the statement as simple as possible and be very specific. Ensure that the topic interests you and it will work.
While collecting information for writing a research paper, remember to record the authors' names, date and page number at the top of the index card that you are using for taking notes. Try to be as accurate as possible when you write down statistics and direct quotes.
One of the most critical steps in writing a research paper is developing an outline for your paper. Your paper will only be as good as the outline you write for it. Write your first draft as freely as possible, following your outline closely. Revise paragraphs for unity and coherence in the final draft.
Once, you have finished writing a research paper you should proofread it to verify correctness.